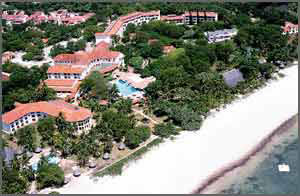 There is a long stretch of soft white sand protected by an offshore coral reef, which disappears at high tide. Mombasa Marine National Park lies off the Nyali headland. There are few beach facilities and what exists is provided by hotels in their specific areas. The water is clean and the gently sloping shore, extending to coral reef, makes it safe for swimming.

Local shopping offers handicrafts and trinkets which are sold in hotel boutiques and in a couple of shopping centres to the S of Nyali. Most visitors tend to go souvenir shopping in nearby Mombasa or the vast Nakumatt hypermarket..

During the daytime there are numerous water sports, including scuba diving, snorkelling, glass-bottomed boat trips over coral reefs and sailing; horse riding; 18-hole golf course; trip into nearby Mombasa for sightseeing and shopping.

The nightlife here is only in the larger hotels, but discos are a short taxi ride away, along the road to Malindi, near Bamburi Beach.

There is little eating out facilities within walking distance, but you are only a short taxi ride from several top-class restaurants, including those around the Nakumatt hypermarket (Chinese, Kenyan and seafood) and many local joints serving fried fish or grilled goat meat. It is not advisable to drink the local water; stick to the bottled variety.