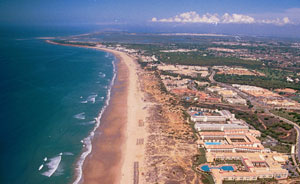 Entertainment during the daytime consists of plenty for the serious sportsperson including 36-hole golf course designed by Seve Ballesteros, horse riding, tennis and paddle-tennis centre. For the adrenalin junkie quad bikes and go-karts.

There is also cycling, rambling, and water sports of all types including sailing, canoeing, deep-sea fishing and scuba diving.

Nightlife is mainly situated in local bars and restaurants, a few with music or a DJ. A couple of slightly suspect clubs operate in high season aimed mainly at the huge influx of Spanish visitors. Otherwise limited to the evening entertainments provided by the hotels. Slightly livelier options exist in Chiclana.

There are lots of restaurants of varying quality and price, mainly in the La Barrosa area. Some Italian but most offer the local specialities like fish, including locally caught tuna, dorada and shellfish.