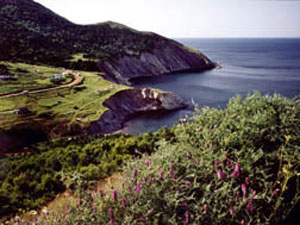 Things to see in Nova Scotia include:
Peggys Cove Lighthouse, 35 km SW of Halifax on road 333 is a lighthouse on rounded rocks. The lighthouse is a post office, there is a restaurant and tourist information but otherwise it is just big rocks with a dozen small house and 60 people living there. Outside Peggys Cove on the 333 there are plenty of B&B's and restaurants. Swissair Memorial, close to Peggys Cove on the 333. Cape Breton highlands (especially in the Fall) Citadel Hill, located in downtown Halifax. The Southern Nova Scotia Biosphere, Tobeatic Wilderness Area, and Kejimikujik National Park in the southern half of the province--the largest protected wilderness area in Atlantic Canada Fortress of Louisbourg National Historic Site, the largest reconstructed 18th-century French fortified town in North America. Things to do in Nova Scotia include:
Pedal and Sea Adventures - Bike tours along Cape Breton's The Cabot Trail, Lighthouse Route, and Evangeline Route, along with Best of Both Coasts tour, and a Lunenburg Adventure tour. Also offers one- and two-day biking and kayaking tours, and bike rentals in the HRM. Scott's Walking Tours - Walking and hiking tours throughout Nova Scotia, including Cape Breton, Nova Scotia's four shores, and the Atlantic seacoast. Tidal Bore Rafting - Experience the highest tides in the world by riding on the tidal bore wave in a raft. Exhilarating fun, even when the moon isn't full! Rob's Rock Mineral & Rockhounding Shop - Nova Scotia has some of the best rocks and minerals in the world. Rob's Shop is an excellent place to discover these treasures.The Bay of Fundy is an excellent place to rockhound. From Parrsboro down to Brier Island. There is a great online catalog for folks who can't visit the area. Freewheeling Adventures, 2070 rte 329 - Bike, multisport, and seakayak tours, guided or self-guided, in the best corners of Nova Scotia. Van support, inns or camping, with best food possible. Rental equipment and delivery also available.