Niagara Falls - Canada Side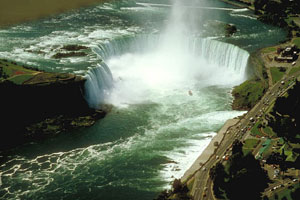 There is a collection of motley souvenir shops and cheap and cheerful stores in the tourist downtown area opposite the Falls. There is a handful of indoor plazas, including one on the edge of Canadian Horseshoe Falls. A choice of factory outlets offering discounted branded names farther out, in downtown proper. Buffalo and Niagara Falls USA are often a better bet for low-priced jeans, trainers etc.

During the daytime experiencing the sheer spectacle of millions of tonnes of cascading water is the principal attraction as well as getting the best photographic record of "me and the Falls". There is the remarkable Skylon Tower for an awesome panoramic view of the river and beyond into the USA. There are amusement arcades and themed museums, including Guinness World of Records and Tussaud's waxworks. The memorable "Maid of the Mist" boat trips get you closer to the Falls.

The nightlife here is not notable as a throbbing late-night destination, although there are several bars in and around the tourist part of downtown. The nightly illumination of the Falls is well worth the wait (in summer), even if only visiting for the day.

Eateries offer predominantly fast-food joints offering the ubiquitous hamburger, fries and pizza, supplemented by roadside-diner chains, There are some smart restaurants at the larger hotels. Bon vivants will be disappointed.