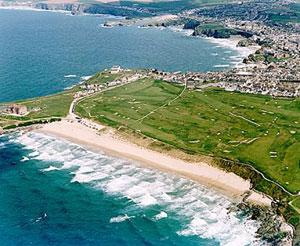 Newquay has lots of interesting things for all ages to see and do. There is a Sea Life Centre, Golf Course, Zoo, and plentiful nightlife.

The Huer's House, on the headland west of the harbour, is of interest. Newquay was renowned for Pilchard fishing, which came in plentiful numbers but at infrequent intervals. Until the late 19th century a man known as a Huer, would watch from the house for the shoals to redden the waters, the sign that Pilchards were in the bay. He then gave a great cry of "Heva! Heva!" to alert the fishermen of the town.

Trevelgue Cliff Castle - (Barrows, Bronze Age-Roman) Seven ramparts defend the headland, where houses and evidence of early smelting were excavated and two Bronze Age burial mounds.

Lappa Valley Steam Railway - Pretty narrow-gauge railway on a former branch line to Newquay. Magnificent listed East Wheal Rose engine house, part of one of Cornwall's most famous mines.

Trerice - A delightful small secluded Elizabethan manor house, built in 1571. The house contains fine fireplaces, ceilings, furniture and clocks.

The Japanese Garden & Bonsai Centre - Authentic Japanese garden set in one acre, with water garden, stroll garden, Zen garden and bamboo grove.

Fistral Beach - is one of the UK's top surfing destinations with many competitions occuring here. The beach itself is wide and sandy and is popular amongst beach lovers.