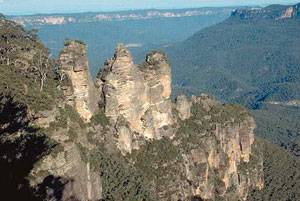 New South Wales main cities offer a wealth of attractions and activities. The main cities include:
Sydney - the state capital and the largest city in Australia Newcastle - the second largest city in NSW is a coastal city and industrial capital of the Hunter Valley region, around 150km north of Sydney. Wollongong - located around 100km south of Sydney between the escarpment and the coast, natural beauty and heavy industry sit adjacent in the Illawarra region. Other regional cities include: Albury - Victorian border town on the banks of the Murray RIver. Armidale - Centre of the Northern Tablelands region, a city with easy road access to several World Heritage-listed national parks. Coffs Harbour - A popular beachfront city for visitors and seachangers, with many accommodation options from the budget to resort. Tamworth - Australia's home of country music. Wagga Wagga - The largest inland city in New South Wales, on the banks of the Murrumbidgee River. Other popular places to visit include:
Lord Howe Island, a World Heritage-listed island some 550km from the mainland, is part of New South Wales and is a popular getaway destination. One of the many prime wilderness areas in the state. Some of these parks and reserves worth visiting include: Blue Mountains National Park is a large World Heritage-listed park. Jenolan Caves Mt Warning National Park Oxley Wild Rivers National Park is a large World Heritage-listed park that has several locations where 4WDs are permitted. Warrumbungles (Warrumbungle National Park) Wollemi National Park is a UNESCO World Heritage-listed park.