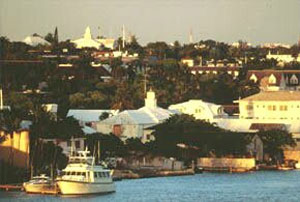 Daytime Activities - consist mainly of water-related activities including sailing, water-skiing, parasailing, windsurfing, snorkelling and scuba diving . There are also golf courses, horse riding, tennis and even squash for the energetic types.

Sightseeing - is most notable in Nassau (capital city) which covers Parliament Square and its fine colonial buildings and monuments . Also near the centre are the 18th-century Balcony House, the oldest remaining wooden house in Nassau; Government House, residence of the governor-general; Gregory Arch; and Pompey (slavery) Museum.

Eating Out - Very wide selection of restaurants , from local eateries to haute cuisine, including Italian, Indian, Scandinavian and Chinese. Meat is imported and expensive but fruit is abundant. Fish is the local speciality, especially all possible variants of the large chewy conch. This large mollusc's beautiful pink shell is actually far nicer than the taste or texture of its flesh, a nondiscretionary "gratuity" of 15% is normally added to all bills.

Other Attractions:

Carriage Tours : Horse-drawn surreys are based at Woodes Rogers Walk. The cost is approximately $10 per person. Maximum passengers: two adults and one child, or three small adults. Horses rest between 1:00pm - 3:00pm during the summer, 1:00pm - 2:00pm during the winter.

Casinos - There are two world class casinos available to Nassau and Paradise Island visitors. Both are open 24 hours a day seven days a week. These Bahamian casinos feature slot machines, craps, roulette, blackjack, baccarat, Caribbean stud poker, big six wheels and more.

Forts - Nassau's historic 18th century forts and monuments are popular attractions for visitors to New Providence. Fort Montagu, where the canons have never been fired in battle.