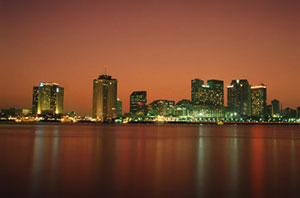 The shopping here ranges from small malls in town to large Lakeside Center outside town. The French Market houses a host of speciality shops, food stalls and souvenirs and a neighbouring touristy flea market. .

During the daytime apart from the French Quarter, various riverboat rides, carriage rides, walking tours around the Garden District, cemeteries and French Quarter history. Various museums, including the New Orleans Museum of Art and Confederate Museum.

The nightlife here is host to the birthplace of jazz, this is a 24-hr town bursting with music. There are many clubs are in the French Quarter. Riverboats have evening dinner/jazz cruises. There is a Casino on Canal Street, as well as riverboat casinos floating on Lake Pontchartrain and Harvey Canal on the West Bank. Biggest bash in N America is Mardi Gras (February or March), followed closely by Jazz & Heritage Festival (Jazz Fest in April?May). Scores of other festivals.

This is one of the few spots in the US that has distinctive regional cuisines. French Creole and Cajun are the main specialities. Dishes include gumbo, beignets and po'boys. Restaurants range from holes-in-the-wall to sleek eateries. Eating in this city is not particularly cheap.