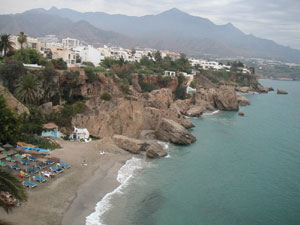 The beaches here aren't the best in the area but nevertheless popular, ranging from small pebbles to coarse sand, there are 7 beaches in all, the best being Playa de Burriana.

The majority of shops are located on the narrow central streets and comprise typical town-centre shops, including clothes boutiques, as well as the usual souvenir, jewellery and ceramics outlets nearer the centre. A bargain may be found in the Tues-morning market. Tourist-tat shops on the main beach.

During the daytime there are beach- and water-based activities including pedalloes, jet-skiing and canoeing, fishing boat trips, horse-drawn carriage rides, a tourist train around town. Also taking in the views from the Balcony of Europe.

The nightlife here offers a range of restaurants and bars but also 1 or 2 discos.

There are plenty of restaurants here specialising in fish, meats and local cuisine. A growing number of British fast-food outlets plus Chinese, Italian (including a pizzeria), Indian and Greek options. There are good "chiringuitos" (small restaurant/coffee bars) right on the beach, offering excellent fish dishes and popular paella. On some beaches you can watch the fishermen bringing in their catch.

Nerjas chief tourist attraction, the Cuevas de Nerja, 3 km from the town, are a heavily commercialized series of caverns, impressive in size - and home to the world's longest known stalactite at 63m - though otherwise not tremendously interesting. They also contain a number of prehistoric paintings, but these are often closed from public view.