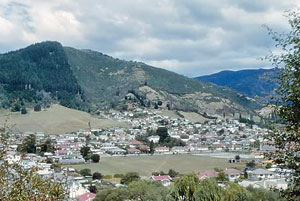 Abel Tasman National Park Experiences offer cruising, beach walks, and sea kayaking through the spectacular Abel Tasman National Park. Many of the places visited are inaccessible by road and there is the option of staying in beachfront lodges. The base for these adventures is situated in Motueka.

The Marlborough Sounds is a tranquil lush green world of 600 miles (960 kilometers) of beautiful coastline and sheltered bays. This idyllic area provides an unspoilt playground for hunting, camping, tramping (hiking), fishing, diving and boating enthusiasts.

Nestled at the head of Queen Charlotte Sound is Picton which serves as the southern terminus for the Interislander ferries. A golden sandy beach is backed by London Quay which occupies much of the town's tourist activity. This port town is surrounded by steep hills and opens to a superb view of forested mountains rising from the sea.

Blenheim is Marlborough's largest town situated on the historic Wairau Plain, which in 1843 was the scene of bloody warfare between the Maori leader, Te Rauparaha and early settlers over the purchase of land.

By 1858, settlers named the region, Marlborough and the settlement, Blenheim, in honour of the first Duke of Marlborough and his most famous victory at Blenheim in 1704. Riverland's Cob Cottage, a few kilometers south of Blenheim, is a restored pioneer cottage typical of the colonial era with mud walls and shingle roof.

Today, orchards, vineyards and horticultural products benefit from the sunny climate. The country's most extensive area of grapes is planted in the Wairau Valley and has earned international acclaim.

The wine trail is now established linking the various wineries and is a popular attraction. The Marlborough Wine and Food Festival is held in February each year and attracts many visitors to sample Marlborough's produce while enjoying music and entertainment.