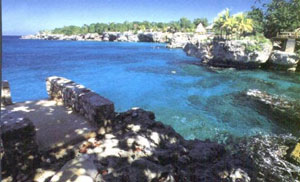 There is one long beautiful 7-ml stretch of beach. It offers good swimming with the water fairly shallow near the shore. The excellent water clarity makes this resort a haven for divers and snorkellers, particularly by the coral reef.

Most hotels have tourist shops and small boutiques and there are roadside stalls and craft stands which sell souvenirs. Some shopping in the village-centre shops and shopping plaza. The serious tourist shopper will need to travel to Montego Bay for variety and choice.

During the daytime activities are predominantly swimming and water sports, including windsurfing, water-skiing, sailing, snorkelling, scuba diving and parasailing. The snorkelling and diving are best off the cliffs at West End and there are several diving schools with full instruction courses and equipment. There are glass-bottomed boat tours, Horse riding, Golf, Tennis and squash at a few of the larger hotels.

The nightlife here has plenty of music bars and some discos, for those of a quieter bent, watching the sun set over the clifftops at West End.

There is plenty of variety in both cost and setting with most guests "dining around" at different properties. Jamaican foods and dishes abound in both restaurants and tiny food stalls on the roadside but you can also find French, Italian, Chinese and American options. Seafood is easily available.