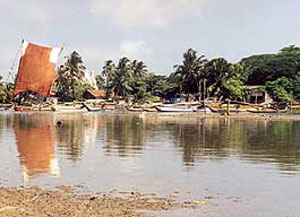 The beaches here are long, well-developed stretches of broad golden sand, each hotelier cleans the beach outside their property frequently. Particularly noted for water sports during peak season, the ocean is often rough during summer the months.

The village centre has array of local businesses but little for the tourist. Kochchikade Sunday market, four miles away, is at the very least an experience. Numerous beach hawkers offer spices, textiles, handicrafts and leather goods.

The entertainment here is mostly hotel based but a couple of bars towards N of resort offer sports on TV and occasional live music.

There are a couple of quality restaurants at N end of tourist stretch offering mainly fish, lobster and curry dishes. There are a few German, Swiss and Dutch eateries on main road.