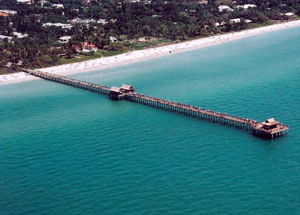 The beach is the resort's real attraction. There is 10 mls of fine, clean, white sand with plenty of public access. It is rated among the best in the US.

Naples Beach is a shopper's paradise. Glamorous boutiques and "designer" shops are clustered in attractive villages, along tree-shaded streets, on the water and in an exclusive complex at the N end of the city. The Fifth Avenue corridor contains art galleries and upmarket shops. Tin City is full of unusual gifts and the Village on Venetian Bay offers shops in a Mediterranean-style setting.

During the daytime the main activities include golf, tennis, boating and other water-based activities. There is the teddy bear and historical museums. The Caribbean Gardens, with small zoo and botanical gardens. The Conservancy-Naples Nature Center and many art galleries.

The nightlife here is not as glitzy as Las Vegas but plenty of good music for dancing and listening to. Watch the performances at the Philharmonic Center for the Arts. There is the Annual "Tropicool Fest" incorporating regattas, outdoor concerts, food tastings and many other events.

Restaurants here offer a wide choice. You can dine by water in shorts or savour vintage wine by candlelight. Naples claims some of SW Florida's most popular award-winning restaurants.