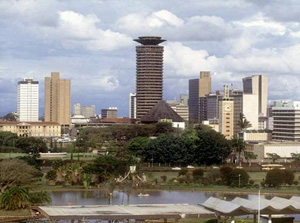 Those looking for an African city that is full of energy that will exhaust even the most hardened tourists, will find Nairobi an interesting option. The city centre buzzes with the energy, aspirations and opportunism of amateur entrepreneurs, safari touts, thieves, food vendors, tacky trinket sellers, prostitutes, shoppers and security guards all trying to carve out their existence in this vast city. Among them are the disillusioned faces of the unemployed, the beggars and the desperate contributing a significant proportion of the city's high crime rate.

There are several museums and places of interest in the centre, including the National Museum and Snake Park. There are numerous markets selling traditional crafts, especially the appealing Masai market. Just outside of the centre is the Nairobi National Park, and the nearby Bomas of Kenya host performances of traditional dancing and singing. The Langata Giraffe Centre offers visitors the chance to hand-feed the Rothschild giraffes who inhabit the area.

Nairobi is best known as the safari gateway of Africa and a good base for travel in Kenya. From here excursions and safaris can be arranged to any of the national parks or reserves in the country.