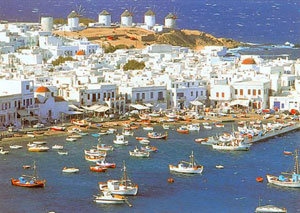 Mykonos is world known for its sophisticated night-life and has the reputation as one of the gay capitals of the Mediterranean. For that reason, it is frequently compared to islands like Ibiza.The island is boosted by direct charters from all over the world, domestic flights from Athens and gets really overcrowded in high season.

If you don't mind the crowds, you will realise that it is a beautiful island with fantastic landscapes and picturesque white painted villages, hundreds of little family churches, chapels and windmills.

Mykonos Town - (also known as Chora) on the W coast is the island's hub and commercial centre ? a picturesque town with clean, white houses, lots of little churches in winding, narrow and sometimes steep lanes and a busy, modern port. Although traffic (and parking) can be a problem, cars and motorbikes are banned from the centre making it particularly pedestrian-friendly. At night it comes alive with a plethora of bars, tavernas and clubs drawing in the crowds from other resorts.

Aghios Stefanos - backed by hills on the NW coast, is relatively undeveloped and slightly tatty, consisting of just 1 narrow row of holiday properties facing the beach. People staying here travel to Mykonos Town for nightlife and shopping.

Platys Gialos - on the S coast is a fairly low-key development in an area encompassing the beaches of Psarou, Paranga, Paradise and Super Paradise.

Aghios Ioannis - sits on the SW coast in a rare sheltered spot with good sunset views but very little to do.

Ano Mera is 1½ mls inland in a central hilly area. It is made up of a dusty sprawl of buildings including a cluster of apartment blocks around a 16th-century monastery. It also offers a choice of fashionable restaurants.

Kalafatis on the SE coast is in a flat, exposed area. Nearby Aghia Anna sits above a couple of small coves on a steep incline. Kalafatis itself is less a village than a crescent of development lining the bay with a few houses up in the hills and a handful of fairly large holiday establishments. It offers peace, sun, sea and a beach to laze on.

Kalo Livadi - on the S coast is on a small, exposed and undeveloped bay and consists of a handful of large holiday properties and a couple of beachside tavernas.

Ornos - is a sprawl of tourist development built on flat ground around an unsheltered bay on the SW coast and rises up a steep hill behind. It also possesses plenty of mooring space for cabin cruisers.

Tourlos - is a quiet resort on the W coast backed by mountains. It serves primarily as a mooring for cruise liners.

During the daytime the main activities include beach and water sports, including diving, windsurfing, water-skiing, jet-skiing and sailing. For the more cultural, exploring Mykonos Town, its archaeological museum, Parapotiani church complex, "Little Venice" area and picturesque windmills, Platys Gialos has a 6th-century BC ruined tower and Temple of Lazarus, Ano Mera with nearby monasteries and convents. There is also hill walking; fishing; and a water park near Elia on the South coast.

The nightlife here is concentrated in Mykonos Town, an energetic choice from cheap music bars to upmarket cocktail bars, Greek evenings, all-night discos and nightclubs. Outside town it's mainly local bars and tavernas, beach bars with music and dancing, and a well-known, outdoor "Ibiza-style" club at Paradise Beach.