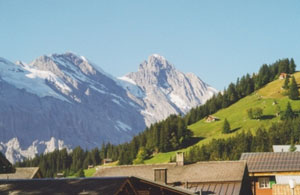 The shopping here is very limited, with only a handful of local shops, enough for the every day essentials.

Duing the daytime the winter-sports activities include downhill skiing, curling, ice-skating, 7½ mls of winter walking trails, snow-shoeing, snowboarding and tobogganing. There are cable-car trips up Schilthorn Mountain, a sports centre offering indoor pool, squash, gym and sauna . In the summer the most popular activities include hiking, tennis and minigolf.

There isn't much to Mürren in terms of nightlife, but what there is really hots up at the weekend. During the day the non-skier might find themselves with a lack of activities. The mountain restaurants won't be winning many awards any time soon, but the hotel restaurants are more than adequate.

Access to the village is provided by train or gondola, definitely adding to the Alpine ambience. The revolving restaurant, Piz Gloria (at 2970m) is as good a place as any to enjoy the views. If for nothing else you really must try Mürren for the scenery.