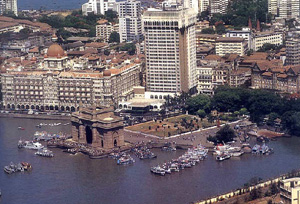 The Gateway of India is the main attraction of Mumbai city. It was built to commemorate the visit of King George V and Queen Mary for the Delhi Durbar in 1911. Situated at the Apollo Bunder, the gateway holds greater historical significance as the last of the British troops that left India by sea, marched through its portals.

The monument is complete with four turrets and intricate latticework carved into the yellow basalt stone. You can also go for a short cruise through Mumbai's natural harbour in one of the little motor launches that are stationed here.

Mani Bhawan is one of the important places to visit in Mumbai. Presently functioning as a Gandhi memorial, it used to be the Mumbai residence of Mahatma Gandhi. It is from this famous house No. 19, called Mani Bhawan, that Gandhiji was arrested in 1932.

This two storied building houses a reference library with over 2000 books, a photo feature on the Mahatma's life, some memorabilia, an old Gandhiji's charkha and a film and recording archive. A minimum entry fee is required to get into the Mani Bhawan.

The Prince of Wales museum is another major attraction of Mumbai. Built in the year 1914, it is surrounded by a beautiful landscape forming an ideal getaway for the people of Mumbai. The museum houses art, sculpture, rare coins, and old firearms and a priceless collection of miniature paintings. The Prince of Wales museum is regarded as one of the best museums in the country.

The Hanging Gardens makes another must see site in Mumbai. The park was built during the early 1880s over Mumbai's main reservoir at the top of the Malabar Hills.

The fast-paced life has given rise to hordes of "fast-food outlets" on almost every road, offering lip-smacking choices of Mumbai's very own pau bhaji, bhel puri and kababs.

The seat of the Hindi film industry, known locally as Bollywood, it produces the largest number of films in the world. Mumbai caters to the adventurous and the romantic through its sporting activities, nightclubs, pubs, theatres, beaches and restaurants.