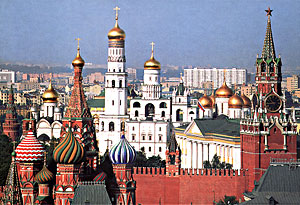 Popular attractions include:

Pushkin Museum of Fine Arts - This is to Moscow what the Hermitage is to St. Petersburg -- the major collection of Western art and antiquities.

Andrei Ryblyov Museum (inside the Andronikov Monastery) - The museum is named for the monestary's most celebrated monk- fifteenth century icon painter Andrei Ryblyov. Strangely, there are not any of Rybylov's own icons here, but visiting is worthwhile to see the collection from the Moscow, Rostov and Novgorod schools of painting.

The Armoury - This is the principal Kremlin museum, with a rich collection that evolved from the royal weaponry and armour workshops once located here. Court carriages, thrones, crowns, and extensive ambassadoral gifts to Russian tsars are on display here.

State Historical Museum - The development of Russian civilization, from the early Neanderthal stirrings to the formation of the Kievan Rus, is exhibited here, giving a good idea of what the first and most ferocious tribes to roam the Russian plains actually looked like.

Central Museum of the Revolution - This is the best twentieth century museum in Moscow. Exhibits range from stones thrown at policemen during the 1905 Revolution to a complete and level headed account of the revolution and coups of the early 1990s.