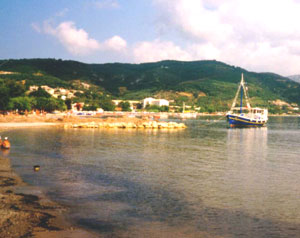 One of the main attractions of the area is the small river from where many local fishermen and the kaiki excursion trips begin their day.

On the beach there are many water sports to choose from and also a great variety of bars and tavernas where you will meet the warm friendly locals who will provide you many tasty specialities, excellent service and a wonderful atmosphere.

In the village centre the visitor will find bargains, good value-for-money shopping in the many modern shops. Also a pharmacy, surgery, plenty of money exchange/tourist offices, rent-a-car, motor bike/bicycle hire, supermarkets plus many bars, tavernas and discos providing lively night life.

In Moraitika there is still the remains of a Roman baths establishment which formed part of the mansion belonging to a rich Roman citizen.

In the community there are 6 churches dedicated to different saints and to celebrate their patronage, they hold traditional festivals in which both the locals and the visitors join together in celebration.

Moraitika is an area that offers a little of everything for everyone - is suitable for families, the young and the young at heart.