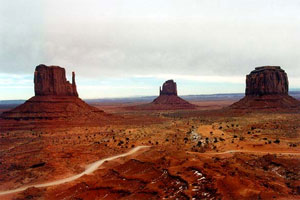 Navajo Cultural Center - The center is located in Kayenta has exhibits on the tribe's history, traditions and religious beliefs, replicas of a shade house, hogans and a sweatlodge and native arts and crafts. Ceremonial dancers perform occasionally. Kayenta is 24 miles south of Monument Valley on U.S.

El Capitan - This ancient volcano was nicknamed by Col. Kit Carson, who led the U.S. Calvary's conquest of the Navajos in 1863-64. It's also known Agathla Peak. Located just off U.S. 163 about 20 miles south of Monument Valley.

Goosenecks State Park - The park has an overlook with views the San Juan River 1,000 feet below as it meanders through the salt and shale Hermosa Formation. The river winds five miles through the Goosenecks of the San Juan in order to get a mile closer to Lake Powell.

Navajo National Monument - Navajo National Monument features the Mesa Verde-like ruins of two ancient Indian villages nestled into alcoves in red rock canyons.