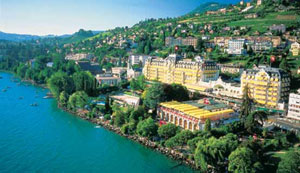 There is not a major shopping centre, but the main street provides many chic boutiques. Prices are expensive and much of what is on offer has a designer label. The central shopping mall offers a supermarket and a few other less expensive shops.

During the daytime there are numerous museums and exhibitions, the Chateau of Chillon which is Switzerland's most famous castle. People also partake in lake swimming, water-skiing, rowing and paddle steamers. In the winter, nearby mountains offer skiing, tobogganing and ice-skating.

The nightlife here consists of a casino, a cinema, a few nightclubs and bars. The town comes alive during the festivals.

There is endless choice of eateries , from promenade snack bars to the terrace of a 5-star hotel. Swiss specialities err on the expensive side. Cheaper options include pizzerias and Chinese.