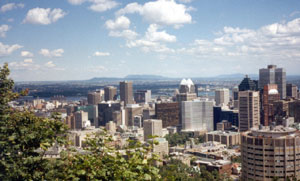 There is a imited bathing area on West shore of Parc des Iles, with water sports during summer.

Montreal is a shoppers' paradise, with everything from sophisticated designer boutiques to souvenirs. Tax-free shopping for visitors. Pockets of interesting boutiques and art galleries along parts of Sherbrooke Street and the streets of Old Montreal vie with the main large concentration of familiar high-street retailers and major department stores along busy St Catherine Street.

During the daytime there is plenty to do for all ages, especially lovers of history and culture. The old town and port areas are popular, as are ferry rides across the St Lawrence to Parc des Iles gardens, walking trails, picnic areas, La Ronde amusement park and Biodome ecological centre. There are numerous museums and art galleries.

The nightlife here is a vibrant multicultural scene, with something for all tastes and pockets. Many old-town bars and hotel venues that stay open until early hours. Nightclubs and discos. Umpteen international events are held during the warmer months, including the famous jazz and film festivals.

The restaurants in Montreal are vast in number and assortment. There is strong French influence ensures city's reputation as a gastronomic destination. There is a Plethora of ethnic cuisines, including Thai, Japanese, Chinese, Italian, Russian, Indian and European and Vegetarian options. There are many chain coffee shops and stands.