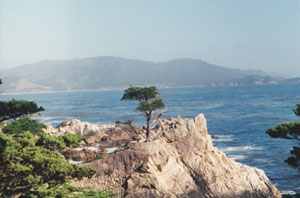 The entire peninsula is fringed by long stretches of wild, sandy beaches backed by big grassy dunes. Not noted as a genuine beach resort because of the strong Pacific rollers and relatively cool climate, but it is popular with skilled surfers year round. Del Monte Beach is the main strip of sand, extending E from Fisherman's Wharf to beyond the Monterey Beach Hotel. There is no leisure infrastructure on the beach.

There is a wide range of interesting local shops downtown, with a host of speciality boutiques and art galleries around Portola Plaza. There are more than 150 stores, offering everything from jewellery to fine wine, in the Cannery Row district. There is a Fish market on the pier at Fisherman's Wharf.

During the daytime there are various historical tours, including a choice of museums, art galleries and restored buildings, there is Cannery Row's old whaling and sardine factories, Monterey Bay Aquarium, and Fisherman's Wharf.

Other activities include wine and beer tasting, extensive golf and tennis, scuba diving, sailing, sport fishing and whale-watching in the bay.

The nightlife in Monteray is generally more reserved. There are numerous bars, 1 or 2 British-style pubs and assorted restaurants. There is also a theatre (California's oldest) and several cinemas. There are also famous blues and jazz festivals.

Restaurants here are dominated by fresh seafood specialities, from sardines to Pacific prawns. Numerous intimate gourmet restaurants with ocean views along Cannery Row and on Fisherman's Wharf pier. There is the usual array of budget eateries and fast-food joints are dotted all over town, supplemented by hotel restaurants. Good variety of locally brewed beers and fine Californian wines from the peninsula's own vineyards.