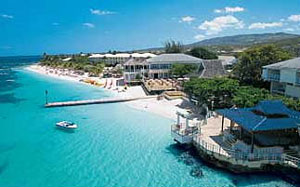 The beaches in the central area get heavy usage, the most popular ones being Doctor's Cave (entrance charge but a good range of facilities) and Walter Fletcher Beach, both of which offer water sports; these are better than the main narrow public beach that runs alongside Kent Avenue.

There are modern shopping areas in the centre and E of Montego Bay at Ironshore provide a wide variety of goods, from crafts and souvenirs to duty-free perfumes, jewellery, porcelain and crystal. Good casual shopping is found along the beach strip, a crafts market is on the other side of town. Most hotels have their own boutiques and shops.

During the daytime there are a wide range of water sports including water-skiing, pedalloes, parasailing and jet-skis. Other activities are scuba diving (including a number of dive schools), several 18-hole golf courses, horse riding, tennis, and go-karting at Aguasol theme park.

The nightlife here is mainly centred at the hotels and all-inclusive properties, it is quite expensive in town where there are a range of bars and a couple of discos. The "Bob Marley Experience", is based at the Bob Marley Centre.

There is a wide choice of restaurants, offering Caribbean flavours abound. There is also a number of international fast-food options.