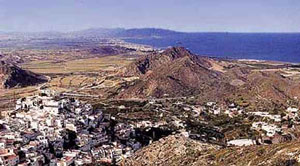 There are more than 10 mls of coastline with coarse sandy beaches shelving gently towards the sea and varying from wide to fairly narrow, with rocky outcrops in places, becoming rocky to the NE towards Garrucha Village. For the most part, it is less developed than some, with plenty of space to enjoy, though small clusters of sun loungers and shades dot its length. The new development tends to be clustered around the wider sections.

The Mojacar beach resort has a wide array of attractions for shoppers, from souvenirs, beachwear/beach gear, handicrafts, quality home ware, furniture, ceramics and shoes to designer shops. There is a pharmacy and a couple of larger shopping complexes, one with a well-stocked supermarket.

During the daytime activities include the ancient cave paintings at Cuevas de Almanzora, the fishing village of Garruch. There are deserted beaches and spectacular views near Carboneras, also bowling greens, a 9-hole golf course, minigolf, go-karting and fishing. There are sports centres, gyms, and the possibility of flying microlight aircraft. There is also Sea fishing along the shoreline.

The nightlife here boasts a handful of discos along the beach, with more lively ones at a couple of places of accommodation. There are many bars, more plentiful along the beach front. Mojacar village itself has bars with a more authentically Spanish flavour.

The Mojacar beach resort has a good choice of restaurants along its length, with a large number of British and Continental restaurants. One can still manage to find a good Spanish restaurant or two serving local dishes and tapas. There is plentiful fresh seafood on offer, also a variety of French, Chinese, Cantonese, Mexican, Irish and Indian.