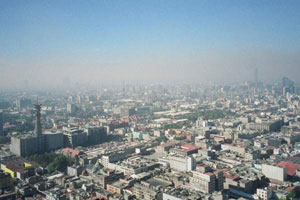 The Catedral Metropolitana , on the northern side of the Zócalo, was built by the Spaniards in the 1520s on the site of the Aztecs' Tzompantli, or Wall of Skulls (a sort of altar on which the skulls of the sacrificed were placed).

Just east of the cathedral are the remnants of the Templo Mayor , the Aztecs' principal temple, and the stunning museum that houses the artifacts discovered at the site.

The Alameda , which was once an Aztec marketplace, is now a pleasant and verdant park. The streets around the Alameda are lined with colonial mansions, skyscrapers, lively cafés, restaurants, shops and markets.

Other must-sees include the Bosque de Chapultepec , Mexico City's largest park, which is home to a handful of museums, amusement parks and the official residence of the president; the Basilica de Guadalupe , the church built on the spot where Mexico's patron saint was seen in a vision; the colonial houses of San Ángel ; the Cuicuilco pyramid ; and the canals of Xochimilco .

Plaza Garibaldi is where the city's out-of-work mariachi bands gather in the evenings, and the Zona Rosa is the highlife and nightlife district.

The best moderately priced hotels are found in the areas west of the Zócalo and south of the Alameda. Excellent cheap food can be found in most areas of the city.