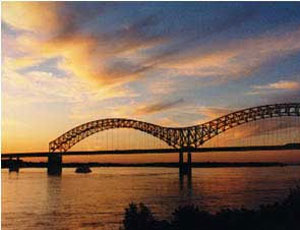 For shopping enthusiasts, there is a choice of large malls on the outskirts of town as well as the somewhat limited number of shops in Peabody Place complex in the city centre. Beale Street provides a wealth of cheap souvenirs and musical memorabilia from rock 'n' roll to the blues, dominated by myriad items from mugs to number plates sporting Elvis Presley's image.

During the daytime there are many attractions such as Graceland, cars, aircraft and record awards and the Sun Studios. There is the National Civil Rights Museum. Peabody Place Museum . Baseball games at AutoZone Park, home of Memphis Redbird, Mud Island River Park, incorporating River Walk, River Museum and "Memphis Belle" B17 WWII bomber. Horse-and-carriage tours. A couple of riverboat cruises. There is also the Annual Elvis Week in August.

The nightlife consists of many bars mainly music-orientated, from country to blues. Beale Street has several lively bars, including nightspot of blues guitarist BB King. Regular open-air performances in the pavilion off Beale Street. Sports and shows at the Pyramid Arena complex.

Eating out options consist of everything from fine dining at the Peabody Hotel to cheap all-day breakfasts, Southern-style barbecues, fried chicken and Creole seafood. Wealth of well-known fast-food chains.