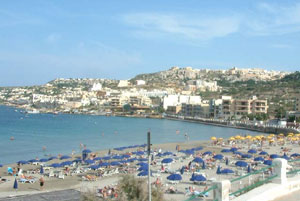 This area is suited to middlemarket adults, and families and those wanting water sports. The accommodation here is mainly medium to large 3- and 4-star hotels.

Ramla Bay and Paradise Bay have their own small, sandy beaches. Malta's largest beach, Mellieha Bay , is a long, somewhat narrow crescent of golden sand with shallow water well suited to small children. There are water-sports facilities and numerous beach bars. The main road runs alongside and at weekends it is likely to be crowded.

There is quite a good range of day-to-day goods and tourist souvenirs in Mellieha. Paradise Bay and Ramla Bay have no shops at all.

During the daytime there are country walks and a variety of water sports.

The nightlife here is limited to local bars and the hotels.

There is a good variety of restaurants of all types in the village and down in the bay. Paradise Bay has a bar/snack bar. Ramla Bay has no restaurants outside the hotels.