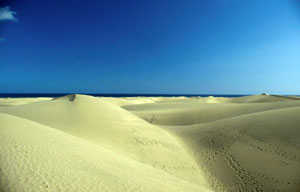 Maspalomas Beach is a gently sloping, sometimes windswept beach of fine sand that runs virtually unbroken eastwards towards Playa del Ingles. It's backed by a magnificent expanse of Sahara-like dunes that extends over a mile inland (popular with large numbers of naturist and gay holidaymakers).

For those interested in shopping, Faro 2 is the somewhat old and dated central shopping centre. One or two additional shopping centres, all offering lots of beachwear and souvenir shops, a couple of boutiques and a good choice of duty-free shopping, as well as a plethora of bars and restaurants. There are three or four small modern shopping centres along the promenade beside the lighthouse at Oasis Maspalomas offer the same, as well as several more boutiques and craft/jewellery shops. Most goods, apart from those at the designer boutiques, are inexpensive.

During the daytime the main activities are golf, horseriding, tennis, mountain-bike tours, amusement park, camel safari park, crocodile park, animal park, water park, roller-skating, windsurfing and impersonating Beau Geste among the dunes. There is some surfing potential at the West end of Maspalomas beach.

Nightlife offers several restaurants along the promenade at Oasis Maspalomas, most hotels have nightclubs and/or evening shows. Otherwise, best to make the short trip to Playa del Ingles for a host of diversions.

Eating out offers a wide range of unsophisticated options in and around the "commercial centres" which provide mainly low-quality meals for the masses. More upmarket choice along the promenade beside the lighthouse at Oasis Maspalomas. A wider selection to be found a short distance away in Playa del Ingles.

Local excursions include Cueva de los Verdes (Jameos del Agua), a memorable system of volcanic caves extending some 3 mls to the ocean; they are the home of blind albino crabs, usually found only at 600 ft below. One cavern is used as a restaurant and bar with evening entertainment and the occasional concert. Fire Mountain (Timanfaya), whose lava slopes and craters can be ascended by camel. Schooner trips to Papagayo beaches; these remote beaches are accessible by car but can also be explored by jeep. Mirador del Rio in the N is a famous viewing point from which the islands of Graciosa, Alegranza and Montaña Clara can be seen. Green lagoon (El Golfo). Sightseeing and shopping in Arrecife. Ferry to Fuerteventura from Playa Blanca, a day trip. Some pretty inland villages; Yaiza wins the "Best Kept in Spain" award year after year for its pristine white-painted houses. Cesar Manrique Foundation the famous architect's former home.