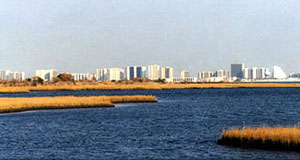 Things to see in Maryland:

Maryland's biggest attractions by way of sightseeing are almost all in Baltimore, centered around the Inner Harbor, including the National Aquarium, historic Fort McHenry, the Maryland Zoo, and a host of great museums. Annapolis is sightseeing destination #2, home to the Maryland State House (which once served as the nation's capitol), the U.S. Naval Academy, and a lovely historic center. Ocean City has its fair share of fun tourist kitsch as well. For more off-the-beaten path sights, look for the National Mormon Temple in Kensington at Christmas time, or visit Cumberland's historic district, set in the beautiful Allegheny Mountains.

Things to do in Maryland:

The big activities here revolve either around sporting events, or outdoor sports. Sports are a big deal in Baltimore, which is a city utterly mad for Baltimore Ravens football—half the businesses in the city deck themselves out in the teams colors. No less important to the city is the Baltimore Orioles baseball team. Sports are just as big a deal on the college scene at the University of Maryland, in College Park, where the Terrapins draw huge crowds from the counties surrounding the school. Outdoor sports are concentrated in the east and the west of the state, since the middle is overrun by dense suburbia. Boating and crabbing are the big draws on the Chesapeake Bay, and there's beach camping to be done at Assateague Island National Seashore. In the west, there is great trekking opportunities in the Appalachian Mountains—Appalachian Trail or otherwise. On the trail in Maryland, is a huge rock climbing draw at Annapolis Rock. The big state parks, like Catoctin Mountain Park and Patapsco Valley State Park, also have loads of really nice woodland hiking trails.