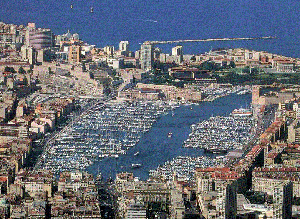 The most popular beach near the city centre is the Plage des Catalans. This marks the beginning of Marseille's corniche that ends at the Plage du Prado, the city's main sand beach, where the water is remarkably clean.

Cassis is a beautiful resort town just west of Marseille. Hemmed in by high white cliffs, its modern development has been limited and it retains much of the charm lost by its more high-profile neighbours. Built on the side of a hill, the old village is centred around a shady square where the inhabitants come to cool off and play 'pétanque' on summer nights.

On the sparsely vegetated island of If is the infamous prison, Château d'If, which is best known as the penal setting for Alexandre Dumas' The Count of Monte Cristo. François I built the fortress here to defend Marseille and its port in the 16th century, and the site later housed a state prison.

Directly south of Marseille, and to the west of Cassis, is the wild coastline of the Massif des Calanques. Some of France's most beautiful and dramatic scenery can be found along this 12-mile (19km) stretch of coastline; the sea has cut gorges, up to a mile (two km) deep, into the limestone. Dazzling white limestone cliffs overhang the sea and attract rock climbers and deep-sea divers.

One of Marseille's most scenic buildings is the Palais Longchamp. Built during the Second Empire, it is the grandiose conclusion of an aqueduct that once brought water from the Durance to the city.