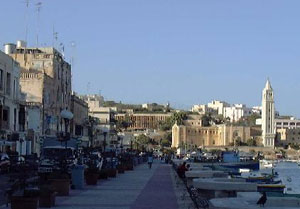 There are beaches but bathing can be done from flat rocks either in Marsascala or at neighbouring St Thomas Bay.

The shopping here is very limited, but a better choice can be found in Zabbar, 2 miles away.

During the daytime activities mainly include water sports and walks. Scuba diving and tuition is also available at Marsascala.

The nightlife is very limited, there are a few bars, or entertainment at the Corinthia Jerma Palace hotel.

There are several cafes and some good fish restaurants, serving local specialities.

There are more activities in the area around 30 mins drive or less, these include;

Scuba Diving, Sunbathing at the Beaches, Paddleboat rentals, Wind Surfing, Surfing, Water Skiing, Snorkeling , Swimming Boating rentals, Fishing, Deep Sea Fishing, Sailing, Yachting, Jet Skiing, Horse riding, Hiking, Cycling Bike Rentals, Tennis, Golf, Ice Skating, Parasailing, Paragliding, Skydiving are all available at Marsascala.