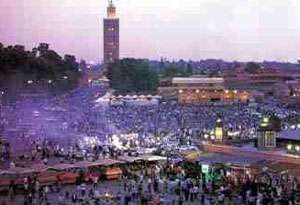 There is never a dull moment in this teeming city designed to inflict sensory overload, but during the summer Popular Arts Festival, Marrakech is more frenzied and alive than ever, the already-packed streets even more crowded with an abundance of tourists and Moroccans avid for fun.

Artists, craftsmen, vendors, musicians, acrobats, fire-swallowers and dancers hold performances in every corner of the city, with the centre of the action at the ruined 16th-century Badi Palace, once the heart of the powerful Saadian Dynasty.

Popular attractions include:

Koutoubia Mosque - Towering over the labyrinthine streets and markets of Marrakech is the city's principal landmark, the minaret of the Koutoubia Mosque, known as the 'mosque of the booksellers' because of the bazaar of the book traders that used to be nearby

Djemaa el-Fna - What it lacks in beauty, the large town square of Marrakech, Djemaa el-Fna (Square of the Dead) makes up for in pulsating liveliness that belies its name.

Dar Si Saïd Museum - The Museum, housed in a palace on the Riad Ezzitoun El Jadid, depicts the arts, crafts and culture of the Berber people, including displays of some Moorish cedarwood furniture, and artefacts from every day life in the Sahara desert.

Saadian Tombs - The beautiful necropolis was built by the Saadian Sultan Ahmed el Mansour in the late 16th century as a final resting place for himself and his successors.