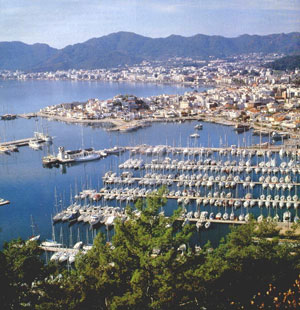 Marmaris has a long but poor stretch of beach with many rough sections unsuitable for bathing. The best section, close to the centre, gets crowded in peak season. Along the promenade is an abundance of restaurants, bars and clubs. Içmeler's beach, 6 mls away, is a much better prospect.

The Old Town has plenty of shops and stalls set up in the former Ottoman "Kervansaray", the name given to an ancient resting place for merchants of old. Best buys are leather goods, jewellery and carpets.

During the daytime a cultural visit to a museum in the 16th-century castle is popular. A great town for shopping and bargain-hunting.

There are other activities such as horse-riding along with boat and yacht charters. There is loads of water sports, including banana-boat rides, jet-skiing, para-gliding, windsurfing, water-skiing and diving. Also take a visit to the Turkish baths.

The nightlife here is based around the bustling waterfront promenade, and the main road, which are dotted with music bars and the odd disco. Overall one of the livelier and noisier resorts for nightlife.

There is a good choice of fast-food snacks and local specialities, especially fish, with one or 2 quality restaurants.