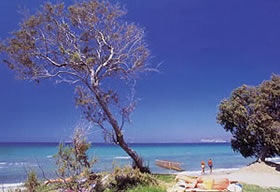 There are long, sandy beaches offering little shade but shallow waters. It can be rather scruffy in some areas. The far end towards Mastihari is mainly sand dunes. There are plenty of sunbeds and sun umbrellas, and some beachfront bars and restaurants. Water sports are available at the main resort centre.

The shopping here is limited to a few small supermarkets and tourist shops. There are no banks. For a wider variety Kos Town is a short distance away..

During the daytime activities are beach- and water-based, including windsurfing, cycling, go-karts, horse riding.

The nightlife offers 1 disco bar. Otherwise most of the entertainment is found in hotels.

There are a few small tavernas offering a good standard of local cuisine.