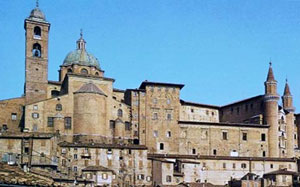 The Frasassi Caves - In the heart of the Gola della Rossa-Frasassi national park, this series of limestone gorges conceal the caves, a huge complex with a 240 metre high central chamber at its heart. The national park is home to eagle owls, peregrine falcons and golden eagles.

Monte Conero - Sticking out, literally, from the smooth, sandy beaches that characterise the Marche coastline, Monte Conero is a limestone promontory rising 500 metres out of the sea. Also a protected natural habitat for rare flowers and birds . terrific views too.

Urbino - One of the many city states which rose during the Italian Renaissance, Urbino wrote the book on courtly behaviour during the 16th century. Ruled by Federico da Montefeltro, who brought Europe\\'s greatest architects and artists to build his model city. Today it\\'s an elegant, relaxed and very pleasant town, with good restaurants and fine museums and galleries.

San Leo - A defensive fortress, clinging impossibly to a peak in the north of Marche, has been a pull for tourists for centuries. Menacing, beautiful, stunning, it has evoked praise from Machiavelli and Dante, and proved impregnable to the invading Cesare Borgia.