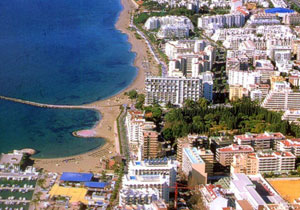 There are almost 2 dozen beaches around the resort, though many are narrow and mostly artificial. Some better beaches are dotted along the coast, but many are difficult to find, as they are not signposted and can be reached only by car. The resort's central beach is among the most popular, and thus the most crowded.

Marbella is filled with classy boutiques selling top-name fashion labels at sky-high prices. The area around the port offers some of the most exciting shopping opportunities, and boutiques often stay open well into the night. The Old Town has all types of small shops in its warren of tiny, twisting streets.

There is plenty to do here during the daytime. There are many well-known golf courses as well as tennis clubs. You will find all sorts of water sports at the marina. Horse riding at some beaches and inland stables. There are very scenic drives in surrounding countryside if a car is hired. Also the contemporary Latin American art at the Ralli Museum.

The nightlife consists of open-air terraces beside the Puerto Banus marina. The nightclubs are upbeat and expensive, but free tickets are often handed out around the bars. There is a very smart casino in Puerto Banus.

Eating out offers an unlimited choice of restaurants, most of them pricey, particularly in the Puerto Banus area, it is possible, though, to find a more reasonably priced meal in the town. There are excellent beach bar/restaurants specialising in paella and sangria.