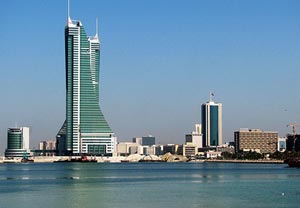 Manama has a varied offering for tourists both in activities and things to see along with a vibrant nightlife and variety of restaurants and shopping options. Shoppers are treated to a few shopping Malls (Bahrain Mall and Moda Mall) as well as the City Centre which provides a variety of shopping options along with a range of cuising catered for in high quality establishments and budget options.

With regards activities, options include dolphin watching, scuba diving, horse riding, pearl diving and bird watching.

For those looking for less activity and more sighseeing, there are also a number of options on offer:
Al-Fateh Mosque. One of the largest mosques in the world, capable of accommodating over 7,000 worshippers at a time and is the largest place of worship in Bahrain. Corniche al-Fateh. On the east coast of the city, this pleasant seaside promenade offers good views of the skyscrapers to the south and planes taking off from the airport nearby. Plenty of fun fair rides for the kids and shisha bars for the older set. Pearl Monument. Bahrain's unofficial symbol, this statue in the middle of a roundabout has six (very) stylized dhow sails holding a pearl aloft. Museum of Pearl Diving. Bahrain's historical cultural of diving for pearls in the Persian Gulf Bahrain National Museum, Al Fateh Highway. Natural and Cultural history of Bahrain Tree of Life, 30 km south of Manama. Famous lonesome tree in the middle of a dry desert. Scientists haven't figured out how it survives, since no underground aquifer or spring exists under that area. In fact, all underground water sources are around the tree are contaminated with salt, suggesting the tree may in fact possess a mutation rendering it salt-tolerant. Bahrain Fort. Bahrain Fort, on the island's North coast, was built in the 14th century but excavations have revealed it was built on the site of Dilmun settlements, dating back to 3,000 BC. Recently renovated, and with new lighting at night, the Fort is an outstanding example of Bahrain's varied and ancient history. Bahrain Fort, known in Arabic as Qalat Al Bahrain, was named a UNESCO World Heritage Site in 2005. Bahrain Fort Museum - opened in February 2008. The first building comprises an exhibition hall and a child learning and training room whereas the second is made up of a conference hall, a cafe overlooking the sea, offices, a technicians suite and a dormitory for archeologists. Bin Matar House: Place of Memory. The Bin Matar House is the latest in a series of projects by the Shaikh Ebrahim Center focusing on the restoration of traditional Bahraini houses associated with historic Bahraini families and leading cultural personalities. The house was designed by the well-known Bahraini architect Mussa Bin Hamad and built in 1905. It was used by Salman bin Hussein Matar as the venue for his permanent "majlis" (a room similar to a salon, used to entertain family and guests). By the 1940s, it was used a clinic by the famous physician Dr. Bandar Kab, and from the fifties to the eighties was used as the centre for the Eslah Club. Until recently, the building lay empty and in uninhibited, ready to be demolished to make way for a new construction. Today, the ceilings of the house are made of a combination of palm leaf and wood beam and the walls and floors have been authentically retouched. Barbar Temple. This is an archaeological site located in the village of Barbar. Three temples have been discovered there, the oldest dating back to 3000BC. The temples were thought to have been constructed to worship gods, as it contains two altars and a natural water spring. During its excavation tools, weapons, pottery, and many small pieces of gold were discovered.