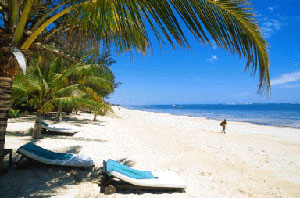 Malindi is well known for its beaches and the best beaches are S of town towards Casuarina Point. These are white and wide, sheltered by coral reefs around 200 yds offshore, with warm water at low tide but extremely narrow at high tide. Hotels N of Uhuru Gardens have wide beaches of darker sand, unprotected by reefs; the sea can be wilder here but there are more opportunities for undisturbed walks and beachcombing.

This is a true shopper's paradise. There are upmarket outlets mixed with lower-priced shops selling clothes, local fabrics and hippie-type clothing. There are many stylish Italian shops. On the beach in town African carvers sell soapstone and wooden carvings. There are Lamu/Swahili-style furniture-makers on the outskirts of town. The open-air market is well worth a visit.

During the daytime activities include scuba diving, windsurfing, sailing and snorkelling in Malindi National Marine Park, there are glass-bottomed boat trips out over the reef. There are also facilities for tennis, there is a 9-hole golf course, and horse riding.

You can also go exploring the area including the Vasco da Gama Pillar dating from 1499, Juma'a Mosque and a pillar tomb containing the remains of Sheikh Abdul Hassan.

The nightlife offers plenty of action with live music, discos, a casino, and many late bars and shows at the larger package-tour hotels.

The restaurants here offer some of the best seafood and Italian restaurants in Kenya. Many pizzerias, several beer gardens and many other choices. It is not advisable to drink the local water; stick to bottled varieties.