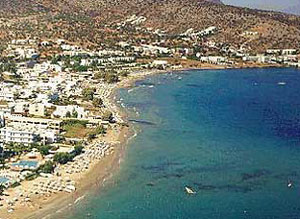 Malia features a long strip of excellent sand with bars dotted about providing drinks and lunchtime snacks. It is spacious and open-plan area lacking any natural shade, though there are plenty of parasols. Jet skiing, paragliding and ringos are among the water sports on offer. A flag system operates due to the strong undercurrents.

A few local sites including the Palace of Malia which was built around 2000 BC and features a few remains of the many royal apartments. What tempts most people away from the beach at Malia, however is the biggest water park in Greece, a 20 minute drive away. Shopping in the resort is fairly comprehensive if a little predictable.

Bars all along the main street supplemented by clubs, often with free admission. Maybe not the ultimate party package but there's as much going on at 4am as there is at 4pm. Eating out options can range from fast food to international cuisine.

This area is suited to young singles, couples, families, all fun/sun seekers who want a full-on party town at a value price. In high season appeals mainly to rowdy British youngsters anyone over 25 is likely to feel old.

The accommodation here is across the range from small, simple taverna rooms to studio blocks and most categories of hotel.