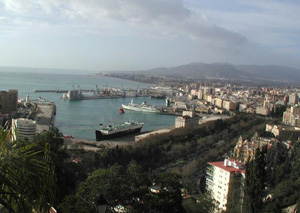 La Alcazaba - La Alcazaba is a military fortress build by the Moors in the 11th century on the remains of a Romans fortress. The fortress lies on a hill top with good view over the town and the sea and originally consisted of 3 protecting walls (whereas 2 are still remaining), more than 100 towers and a superior part with a residential area including 3 palaces.

Gibralfaro - The Gibralfaro Castle / Fortress is situated just next to La Alcazaba which it is connected to by ducts from two of its towers. Originally the place where the Gibralfaro lies is thought to have hosted a lighthouse build by the Phoenicians. On the remains of this lighthouse a fortress was build by Abderramán III and was later reconstructed as a castle by Yasuf I in the 14th century.

Roman Theater - The Roman Theater is located just below La Alcazaba. It was not discovered until 1951 in spite of it's size with a radius of 31 meters and height of 19 meters. Studies have shown that it hasn't been used since the 3rd century and that the Moors used elements from the Theater in the construction of La Alcazaba.

Picasso Home - Museum (Fundacion Picasso) : The early years of the life of Pablo Ruiz Picasso are closely linked to the city of Malaga, where he was born in 1881. Family tradition also played a large part in shaping his essentially malagueño character. His life and works would later see him become the most famous native of Malaga of all.

Tivoli World - Tivoli World is a theme park with many exciting rides to choose from. Many of the rides are adapted for small children and babies. There are daily shows varying from Andalusian flamenco, Wild West Shows, an open-air theatre presenting live music, ballet and children`s specials. There is a range of international cuisine to choose from ranging from Texan to Russian

The Cathedral - The construction of the Cathedral in Malaga began in 1528 after conquering Malaga from the Moors. It was build on the top of a former Mosque, which was destroyed when the Moors lost the town. The construction was not finished until 1782 and it therefore shows many different architectural styles such as a Gothic fundament, Renaissance facades and Baroque towers.

Sagrario Church - This Church is situated between the Palace Episcopal and the Cathedral It was build on the ruins of the major Arab mosque in the 15th century in a gothic style. Inside the church there is a fascinating altar build Juan de Balmaseda.