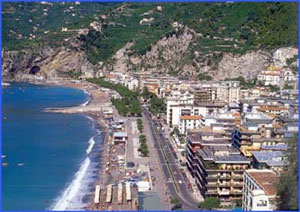 Beaches: There is a good sandy and shingle beach, shelving gently and safe for children. For its full length, it is lined with bars, sunbeds, deck chairs and sun umbrellas, and is backed by a promenade with shady lawns and benches for enjoying the views.

Shopping: There are the usual Italian souvenir shops and a few smart, expensive shops along the way..

Daytime Activities: During the daytime there is plenty of beach and water sports, such as water-skiing and snorkelling. For the cultural types there is exploring the town with its dozen churches and remains of a more glorious past including the 9th-century castle of San Nicolo perched above the town, more ambitious walks into the hills can be taken. There are also facilities for horse riding.

Nightlife: The nightlife here is limited mainly to hotel entertainment, there are concerts and artistic/cultural events through summer season. Or simply relax and watch the world go by in cafes. There are no nightclubs or discos in this area so it is unsuitable for those looking for a lively holiday.

Eating Out: There are numerous restaurants and pizzerias. The specialities of the area include seafood, pizzas, pasta dishes, vegetable soups, smoked or grilled cheeses and, of course, ice cream. One unusual festive speciality is a cake called, in the local dialect, "mulegnane c'a' ciucculata" and consisting of eggs, almonds, pine nuts, candied fruit, cocoa and aubergines! Local wines are good, particularly the whites.