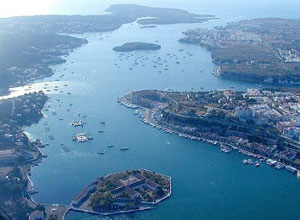 The nearest beaches are at Punta Prima (7 mls) and Es Grau (6 mls).

There are mainly small shops, but there is a lot of them. All the basics are available as well as many of the island's specialities.

During the daytime visit the neoclassical town hall, the San Roque town gate, the churches of Santa Maria, the Sant Francesc and Carme, the opera house (Teatre Principal), the Xoriguer gin factory and horse racing at the hippodrome.

The nightlife here consists of a few bars and a couple of discos.

There is a wide choice of restaurants with plenty of variety, including traditional and local cuisine, concentrated in town centre and port.