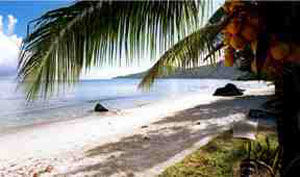 The beaches here offer a wide choice, with around 70 in all, small or large, deserted or crowded, highly visible or hidden away in some remote part of the island. Beau Vallon, the main tourist beach on the NW coast, is a 2-ml-long arc of white sand with clear waters and a wide range of water sports on offer, it is also the calmest of the beaches, so good for young families.

Victoria offers a range of locally produced wares and a daily market for fresh fish and vegetables; the Codevar Centre has a wide selection of local art and crafts. All villages have small, basic grocery stores for every day living.

During the daytime there are many beach and water sports, including snorkelling, diving and sailing. There are also acilities for golf, horse riding, paragliding, bird-watching, walking and hiking.

The nightlife here is based mostly in hotels offering evening entertainment programmes, from barbecue nights to dinner dances and folk singing. There is one cinema in Victoria, a national theatre, 5 discos/nightclubs which are open mostly at weekend, and a couple of hotel-based casinos.

The main choice of food here is by far is creole, but many eateries offer a more bland "international" cuisine for those who can't take the spice. A reputable pizzeria at Beau Vallon. Several takeaways can be found in Victoria. A few Chinese and Indian restaurants exist in the bigger hotels.

Most of the religious festivals that are celebrated in Port Victoria are related Roman Catholicism like Easter, Corpus Christi on June 10, The Assumption on August 15, and the Immaculate Conception on December 8. Festival Kreole is celebrated every year at the end of October to showcase the Crèole culture and tradition to the outside world.