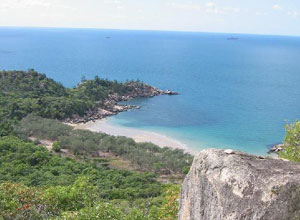 For the holidaymaker, activities are plentiful including beach horseriding, parasailing, snorkelling, water activities, harley tours, golf, tennis, reef and fishingtrips.

The Picnic Bay Mall is the island's central shopping area, and is also the main arrival and departure bay for ferries.

Walking Magnetic Island's Bush trails , would, with snorkeling off the pristine beaches , be one of the easiest to achieve and greatest, pure nature experiences anywhere in the world.

There is also a fantastic National Park (comprising more than 50% of the Island) with an abundant variety of wild life, such as Koalas, Cockatoos, Lorikeets, Eagles and Rock Wallabies .... and with, of course, the famous Bush Thick Knee or Bush Stone Curlew.