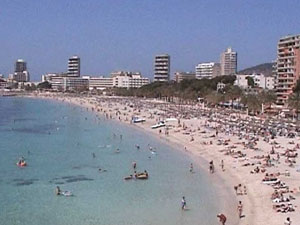 The beach here is the largest on this section of coast and, indeed, on the S side of the island. It is broad and deep, with fine white sand, though it is still capable of overcrowding. It's safe to swim here; the currents are not too strong and the waters fairly shallow; lifeguards are present from May to October.

Ther are scores of shops with reasonable prices, selling jewellery, clothing, beach and water-sports wear, souvenirs and handicrafts. There are some some high-street retailers. However there is lots of junk, and the more serious shopper will do better in Palma. There is a Monday-morning market in Calvia, and various others throughout the island. There are many small, well-stocked supermarkets in the centre itself, with a couple of large supermarkets on the edge of the resort.

During the daytime there are water sports, go-karting, water parks, bowling and pony rides in the precincts. The standard glass-bottomed boat trip has now been outdone by "Nemo", the Finnish-built, glass-sided submarine. There are facilities such as tennis, cycling, bungee rocket (summer) and golf courses all within 5 mls.

Magalluf is Mallorca's entertainment and clubbing capital. Most hotels have organised entertainment, some excellent, some appalling. Most are free with the exception of Pirates, which is a must for those who aren't easily offended. The largest nightclub on the island is BCM, which attracts top DJs from around the world.

Other clubs include Bananas, School Disco, Boomerang and Carwash (60s and 70s music). Most clubs don't get going until around 11pm, but there are lots of good bars nearby which offer good music and large jugs of sangria. Popular ones include BCM Cafe, Panama Jacks, Bar 29, Lennon's and Eva's.

There are plenty of restaurants in Magaluf cater for many tastes. Indian, Chinese, Mexican, Italian, and even some Spanish restaurants compete with fast food outlets and lots of pubs and cafés offering full English breakfasts and Premiership football. Better restaurants can be found in Palma and Andraitx.