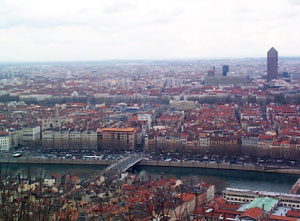 Popular attractions include:

Musee de l'Imprimerie de Lyon - 13 rue de la Poulaillerie. this museum occupies a 15th-century mansion, and is devoted to Lyon's role in the world of printing. Exhibits include a page from a Gutenberg Bible, 17th- to 20th-century presses, 16th- to 19th-century woodcuts, and engravings. This is one of the most important printing museums in Europe.

Basilique Notre-Dame de Fourviere - 8 place de Fourviere. On the hill's summit is this 19th-century Basilique, rising fortresslike with four octagonal towers and crenellated walls. Its interior is covered with colored mosaics, and an ancient chapel adjoins the church. A gilded statue of the Virgin surmounts the belfry.

Primatiale St Jean - This cathedral was built between the 12th and 15th centuries. Its apse is a masterpiece of Lyonnais Romanesque architecture. The beautiful stained-glass windows are from the 12th to the 15th centuries. A highlight is the Flamboyant Gothic chapel of the Bourbons.

Musee des Tissus - 34 rue de la Charite. The museum is housed in the 1730 Palais de Villeroy. On view are priceless fabrics from all over the world, spanning 2,000 years. Some of the finest fabrics made in Lyon from the 18th century to the present are displayed.