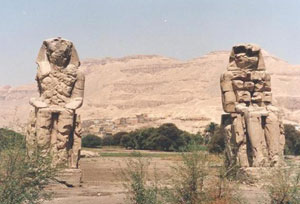 There are no beaches in Luxor and it is unadviseable to take a swim in the Nile, usually caleche drivers and their nags bathe in the Nile.

Shopping is limited to scruffy souk and bazaar-type shopping streets open till late at night in the old town. Near the promenade is a "tourist bazaar" where the shopping experience is less intimidating and bartering is not as severe as in the souk. Many larger hotels also have small shopping arcades either on site or attached, where shopping is civilised but prices are by no means fixed.

During the daytime the main activities include, city sightseeing taking in:

Luxor Temple (city center) - Statues of Ramses, Colonnade, Temple of Tuthmoses, Amenhotep's courtyard and more.

Karnak Temple (city centre) - Hatshepsut's obelisk, sacred lake, Hypostyle Hall, Temple of Amun and much more. Sound and Light Show.

Theban Necropolis (across the Nile to the west bank) - Valley of the Kings and Queens, Collossi, Temples of Medinet Habu, and Deir el Bahri, Ramessuem, Seti Temple, Deir el Medina (workers village) and others.

Dendara Temple - Built during the Ptolemaic (Greek rule) period which included Cleopatra's reign. It still has its roof intact. It can be reached by private taxi, but most people opt for a day long cruise up the River Nile to Qena and then a 8km trip by coach to the temple. Beware - it is a very long day and although most people start off basking on the sundeck by mid afternoon everyone is looking for that elusive shade. Take plenty of sun protection and a hat.

Other activiies include taking a trip on the felucca (traditional sailing boats) on the Nile, hot-air balloon trips. There is also an 18-hole golf course.

The nightlife in Luxor consists of Hotel Novotel Coralia's disco on a boat, themed dining, and a sound-and-light show at Karnak Temple.

The restaurants are mainly hotel based with a good range of table d'hote, a la carte, light meals and pizzerias. There are some Chinese, Italian, themed meals, and buffets restaurants in the area. A few good-quality local restaurants, the brave can go ethnic in the cheap restaurants around the railway station.