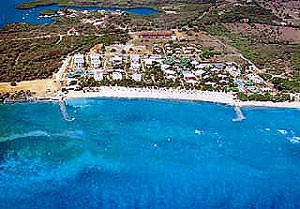 The beach at Playa Grande is reasonably attractive and offers relatively protected swimming, owing to its position in the cove; the sand and water is clean. Palms offer plenty of shade and there is an ample supply of sunbeds.

Souvenir stalls flank the shaded walkway at the rear of the beach and the all-inclusives organise water sports for their guests.

Shopping is confined to main hotels. There is a handful of cheap and cheerful gift shops in the village and by the beach specialise in local trinkets.

There is not much in the form of entertainments. The Daytime consists of beach and some water sports. The nightlife is generally organised hotel entertainment.

Eating out is mainly in hotels, but there are a couple of restaurants in the village but take care what you eat. Don't drink the tap water (brush your teeth with bottled water) and avoid salads or cold meats that are displayed without the benefit of chilling devices.