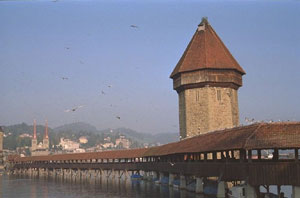 Lucerne has a fine range of eating and drinking venues covering all budgets - the crowded, generic places that are in plain view tend to be least interesting, but a small amount of backstreet searching will turn up plenty of more rewarding places.

Lucerne's nightlife scene is averagely active, with plenty of arts centres and music venues around the Old Town and the rest of the city. There are two places to check flyers: Doo-Bop, Brandgässli 8, is a dance music shop with plenty of information about events in Luzern; while Romp, Denkmalstrasse 17, is an "info-shop" at the centre of Luzern's squat culture, with music, flyers and contacts for all kinds of alternative activities around and about. The Stattkino, Baselstrasse 15, is an arthouse cinema with a varied daily programme of world cinema, plenty of it in English.

During the daytime culture vultures will find exploring the city including the Chapel and Spreuer Bridges, spectacular, Visit the 17th-century Jesuit Church, Renaissance Town Hall with its impressive roof, Musegg Wall and the Lion Monument, 8 museums including Picasso and Wagner Museums, and the Swiss Transport Museum, one of Europe's largest with a planetarium and IMAX cinema.

There are plenty of art galleries, the Glacier, lakeside lidos for swimming and sunbathing. Sporting activities include canoeing, paragliding, hiking, biking, horse riding, fishing, water-skiing, ice-skating and curling, indoor pool, golf. There are numerous music festivals, rowing regattas, horse races, processions and town carnivals through the year.

The nightlife offers a choice of bars and cafes, particularly along the water front and in the Old Town. There is an evening boat trip with floor show, concerts, opera and ballet. You will find many folklore evenings, a casino and an open-air cinema (occasional English-language films).